Q:  Family first… tell us a bit about you and your family.
A:  My husband Steve and I live in Evanston and have three kids, ages 13, 14 and 16. I was at home for a long time with our kids, and went back to work four years ago to teach nursery school.
Q:  What was your life athletically (or otherwise) and how has it evolved since becoming a parent?
A:  I've always loved playing sports and although marginal at most of them, I've always felt better when involved in some sort of daily physical activity. Since having kids, it's been trickier trying to make it work and there were a few years when a two mile run was all I could manage. I generally work out early in the morning two to three days a week before they get up, and on days when I don't work I'm able to fit in tennis, swimming, and group workouts at Precision.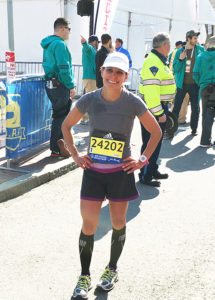 Q:  What are a few of your athletic successes through the years?
A:  I've run 10 marathons and qualified for Boston twice. My first Boston was in 2013, the year of the bombing. It was a very upsetting and terrifying day and I wasn't really looking to get back there, but once I qualified again, I figured I had to at least try. This year's race was very difficult for me but once it was over I felt a great sense of relief and accomplishment. I also enjoy competitive tennis and platform tennis, but wouldn't claim to be successful at either, I just love to play.
Q:  What do your children think of their athletic mom?
A:  They're generally embarrassed by me most of the time, but it's not due to sports! Now that they're older we can all play tennis, a bit of golf, and go skiing – and I'm now officially the slowest skier in the family. We spent a ton of time playing catch, bike riding, and shagging balls for them as little kids, so they've always known that I loved sports and was willing to play with them. They've tried to teach me how to rip-stick and throw with a lacrosse stick, but I've failed in those areas. They find humor in my attempts, which I guess is worth something?
Q:  There are only so many hours in a day, so how do you balance family/work demands and interests with your athletic goals?
A:  I try and work out before the kids get up, so there's little or no impact on anyone's work/school schedule. Marathon training obviously makes it more difficult, but working part-time gave me flexibility when planning long runs. My main goal was to incorporate my running partners into my distance training so I wasn't out there solo for all those miles. They were really great in helping me cover the distances, and I tried to be as flexible as possible to get their help. When possible, I also tried not to do long runs on the weekends due to how tired I would be at the end of those days.
Q:  Any tips or advice would you have for other parents with goals of getting back in shape and/or continuing to train/compete?
A:  My favorite way to work out is with friends. Every hard workout is easier with a friend, and if you're stuck at home with young kids, the social outlet can be vital to your mental health, too. Group fitness is very motivating and adds an extra element of commitment (not cool to leave your running partner waiting in the rain). Find a friend and try something new. Not all activities will stick but it's fun checking them out. Trying to find someone to try circus class with me. No takers, yet.
Q:  What motivated (or continues to inspire you) to keep training and racing, no matter the demands of parenting/how do you keep it fresh and continually challenge yourself?
A:  Age has really motivated me so far. Qualifying for Boston is based on age and time, so I had that in my sights for a long time and it took me quite a while to get there. I love so many different activities so I don't ever find myself bored or in a workout rut. I set a goal years ago to climb Mt. Kilimanjaro with my friend when we turned 50, and that's still on the back burner. We'll see if we can pull that off, but it's fun to think about trying. Team tennis also gets my adrenaline going, I always get very nervous but love the action, the chance to collaborate with a partner and the occasional win.