Q:  Why did you decide to climb Mt. Kilimanjaro?
A:  It was my first summer in 4 years without an Ironman race and I wanted to fill the void with something challenging and exciting. Kilimanjaro was a perfect fit.
Q:  How did you train for the climb?
A:  I started by reading about the climb; Kilimanjaro – The Trekking Guide to Africa's Highest Mountain and Kissing Kilimanjaro – Leaving It All on Top of Africa. Next, I did what any smart person would do and called JP. JP confirmed everything I was reading. I needed to stop running, biking, swimming and focus on hiking with my pack. My weekend workouts included 6-8 reps of 20 mins walking on the treadmill at 7-12 incline w 5 mins of core between each set.
Q:  How was the trip planned?
A:  Last minute. My daughter was scheduled to be at her father's for a week and I realized I could travel anywhere in the world! I booked the trip 6 weeks in advance and then furiously ran around preparing … equipment, vaccinations, updated passport, visa and training!!
Q:  Did you need vaccinations?
A:  Yes, Hep A &B, Typhoid and yellow fever. I also received a prescription for malaria and diamox which is a drug commonly by used by hikers to reduce the chance of altitude sickness.
Q:  What did you bring for your climb – equipment, clothing, lotions/potions, sleeping bag, tent, etc.?
A:  A lot! Packing was a big deal and something I worked on for 6 weeks to make sure I had everything: 4 season sleeping bag, hiking boots, gaters, buff (bandana- muff), hiking poles, hiking pants, snow pants, head lamps, first aid kit, SPF 100, high grade bug spray, sun glasses, ski coat, winter hat, gloves, wool socks, GoPro, camelback, rain gear, backpack, toilet paper, baby wipes, etc. Thanks to JP, I also brought Sportslick which I lathered on my feet each day to prevent blisters and shared with everyone in the group. Tents were supplied by the travel company, GAdventures.
Q:  When you first saw the mountain and the adventure ahead of you, what was your first reaction?
A:  Kilimanjaro is the tallest free standing mountain in the world, often referred to as the roof top of Africa. Since it's not part of a range, it has a great presence. After all of my research, I became very aware that not everyone makes it to the top. As I looked at the mountain from my hotel balcony, I was scared and excited.
Q:  What did the sherpas do for your climb, or are they called porters?
A:  The porters carry your bag (limited to 15 kg including sleeping bag), tents, food, etc. Nothing can be left on the mountain so all garbage has to be carried down. The porters are amazing, with limited hiking gear, they bound up the mountain with the greatest of ease, carrying our heavy packs and camping gear on their heads.
Q:  What did you eat during the climb?
A:  We had a chef that prepared breakfast, lunch and dinner. Breakfast included eggs, toast and a local porridge that was kinda like cream of wheat. Lunch was usually a sandwich, fruit and cookies. Dinner included lots of carbs like mash potatoes, pasta and rice. They defiantly worked to insure we were refueling. Our pre dinner routine included hot chocolate and popcorn followed by a briefing to prepare for the following day's trek. Our guide leader would also take our stats, heart rate and pulse, recording how we felt and how much water we drank. It was his job to insure everyone made it to the top and each day would play into our success or failure for that final ascent.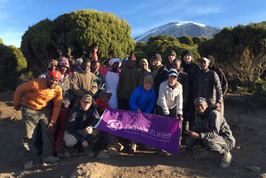 Q:  Were you the only group of people there?
A:  There were lots of travel groups. There are 7 primary paths to the top of the mountain. Each path follows a different route and takes a different number of days. We hiked the Machame route, hiking & camping 7 days from start to finish. 7 days is the recommended minimum number of days with the maximum degree of success reaching the summit? Routes range from 6 days – 12 days.
Q:  Did you have to acclimatize?
A:  Yes, you acclimatize by going high and sleeping low. Each day we would climb up and then descend several hundred feet to camp which gave our bodies a chance to adjust to the altitude. It was also critical to drink lots of water and stay hydrated. During a 4-5 hour hike we were expected to drink a minimum of 3 liters of water.
Q:  What was the climb like?
A:  We hiked 5-8 hours a day, starting off early in the morning and finishing up just before dinner. We went from rain forest to dry land to lava rocks to snow with the air becoming colder and thinner as we ascended. There's no straight path to the top. Instead, you rap around the mountain side, hiking up and down the mountain with a net gain of ~3K feet per day. Some days we climbed rock walls like Barranco Wall (takes ~1.5 hours to hike up 257 meters), other days we hiked up to 15k feet only to eat lunch at the top of Lava Tower and then climb down as part of our acclimatization process. Each day was breathtaking and an amazing feeling of accomplishment.
Q:  How did the altitude affect you? Did you feel it every day?
A:  From the very first day, the guides taught us "Pole Pole" which means slowly slowly in Swahili. By keeping a slow but steady pace you teach your body to breath and pace in preparation for the summit. I found it difficult to drink the required amount of water each day. As a result, I ended up with a slight headache that was quickly corrected by immediately increasing my water intake.
Q:  Diamox, yes or no? Was there a pre-climb regime, if not a during-climb regime?
A: Yes. While I've had success at altitudes of 8,000-14,000 ft, they say past 15k ft you never know how your body will react so I took Diamox to increase my chance of reaching the summit. You begin taking Diamox the night before the climb and continue taking it up to the summit day. Two members of our group, young Marines, did not take Diamox and they struggled significantly on summit day. They were throwing up, dizzy and required assistance to reach the top. Myself and the others made it to the summit 1+ hours earlier requiring no assistance from our guides.
Q:  What was the hardest part of the climbing adventure and how did you pull the inspiration to continue?
A:  The hardest part of the climb is the day you summit. You hike 8 hours during the day, sleep 3 hours from 8-11 pm if you can sleep, I did not, and leave the campground at midnight to hike the remaining 4,010 ft to the summit. This all takes ~6+ hours. You hike in pitch black, not able to see the magnitude of the climb ahead which is somewhat helpful but requires patients and determination. It's important to settle your mind similar to a 6 hour bike in an Ironman race and just take it one step at a time. Best part was the stars in the sky – they were simply amazing!
Q:  Oxygen as you neared the summit…was it available, was it needed?
A:  Oxygen tanks are not necessary but air is very thing so Pole Pole is key.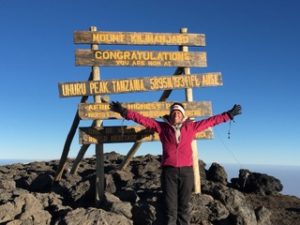 Q:  What was summit day like?
A:  Amazing and super rewarding. I felt an amazing sense of accomplishment! The view is breathtaking and I felt on top of the world, like I could do anything!
Q:  What did you do at the top? And remind us how high the summit you scaled was?
A:  After ~6 hours of climbing, we reached the first summit, Stella Point 5,756 meters. We made it to Stella Point in time to watch the most spectacular sunrise, feeling our first breath of success. It's another 30+ mins to get to Uru Peak, the highest point on the African continent at 5,895 meters (19,341 ft). They don't let you stay long due to the negative affect of altitude, cold temps (can reach a low of-23C) and the need to still descend 9k+ feet before reaching our final camp site.
Q:  How was the way down?
A:  In many ways, down was more difficult than up. It was hard on your quads and scarier going down with several steep slopes. The hiking poles were most useful on the descent
Q:  Is there anything you wish you had brought on the mountain? Did you feel like there was anything missing?
A:  Solar battery charger and a pair of evening shoes other than sandals (too cold for sandals).
Q:  If there is one thing you could recommend for somebody thinking about climbing Kilimanjaro, what would it be?
A:  Read up and talk to others who've climbed.
Q:  What's your next adventure?
A:  So far I have Galapagos scheduled for spring break and planning Machu Picchu & the Amazon for summer 2017. There are so many wonderful places in this world it's hard to prioritize. I will defiantly go back to Africa someday.