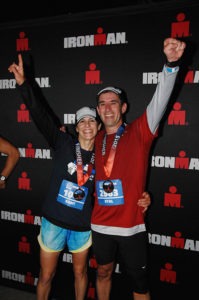 Q:  What are you training for this season?
A:  Both of us are training for Racine half Ironman held this July, followed by the August Ironman in Boulder, and then the Chicago Marathon this October. We might register for another race in December!
Q:  How do you set your goals?
A:  Sarit: Since we train and race together, we choose goals that motivate us both and goals that we can both achieve.
Eyal: I don't set my goals. Coach Craig , coach JP, and coach Sarit set them up for me.
Q:  Describe your typical training week?
A:  As a couple, we train six days a week. Coach Craig knows that we should have an equal number of training hours to keep "peace in the family" so he works hard on our schedule–specifically, given Eyal's hockey and soccer nights that also keeps him busy. We try to coordinate our schedules as much as we can, and do most of the workouts together. The long runs can definitely be thought of as of our "quality time" together: Sarit talks and Eyal pretends to listen.
Q:  What prompted you to compete in triathlons?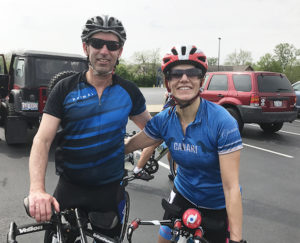 A:  We were both training for the 2013 Chicago marathon and Eyal got a stress fracture about a month before the race. Unable to run he started biking at Precision and then started swimming as well. From there, the road for Eyal's first triathlon was clear. Sarit saw all the fun, and the next year decided to join the party.
Q:  What would be your ultimate achievement as it concerns your racing?
A:  Sarit: Run a 3:30 marathon.
Eyal: Catch up with Sarit.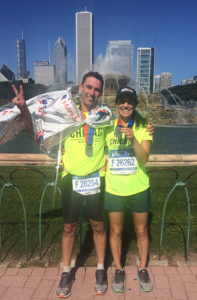 Q:  What has kept you motivated with your training, especially during those long winter months?
A:  Sarit: Having a partner to train with definitely helps, specifically given that we each prefer different disciplines. I love running and I am okay with biking; Eyal enjoys swimming. I jump out of bed on running and biking mornings. Getting to the pool when it's cold outside is the hardest, so I just follow Eyal. The best part obviously is the feeling after I'm done. My favorite workout is the Tuesday 5:30am ride followed by a run and the swim bench. I have that "high" all day long on these days.
Eyal: Hmmm…. that's a good question… For the long workout days, I know that if I stay at home and Sarit goes training I'll have to take care of the kids, so that's a strong motivator! I also LOVE the nutrition part of it: GU and Honey Stinger Waffles, delicious. I recently made a calculation, and realized that I'm consuming way more calories than I'm burning! As for the pool, I aim for 15 minutes of swimming and 45 minutes in the hot tub.
Q:  Lastly, do you have a saying or motto you live your life by?
A:  Sarit: Life is short, live it to the fullest.
Eyal:  If Sarit can do it, I can do it too.