Q: What are one or two things do you currently do in your training that are keys to your success?
A: This year I'm putting a lot of effort into improving my nutrition. I am working with Precision Multisport nutritionist Patricia to become more metabolically efficient and train my body to get its energy less from sugar and carbohydrates and more from stored fat. I am also implementing strength and stability workouts into my training to help protect me from injury and improve my overall efficiency.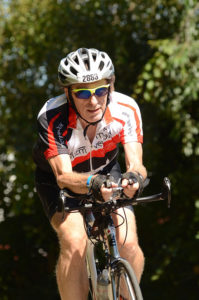 Q: Where do you draw your inspiration from?
A: I am inspired watching videos of triathletes who have overcome huge odds to compete or who help others participate in the sport who otherwise wouldn't be able to. Two stories in particular continue to amaze me: Dick Hoyt is a man in his seventies who races full-­‐distance Ironman races with his son who is paralyzed with cerebral palsy—towing him in a rubber boat during the swim, cycling with him in a seat on the front of a specially built bike, and running the marathon pushing him in a wheelchair. And the second is Alex Zanardi, the paraplegic former Formula One race car driver from Italy who raced in the Ironman World Championship at Kona not bemoaning his disability, but instead rejoicing in being alive and being able to compete. I am also inspired watching my fellow athletes at Precision Multisport that work hard to push their limits and try to be the best they can be, whether they are training for races or working out to get in shape.
Q: Have you experienced a breakthrough in your training, and if so, what led to it?
A: When I started doing triathlons I had a huge fear of swimming in open water. I got seasick in the waves, didn't like the cold, and was often close to panic at the start of races. Little by little I am improving as I'm spending more time in the water. I've also used a few non-­‐traditional methods such as EFT tapping and psi bands, and since January I've been doing Cold Shower Therapy (impossiblehq.com) to get more comfortable with the cold. I'm up to 96 consecutive days of cold showers now!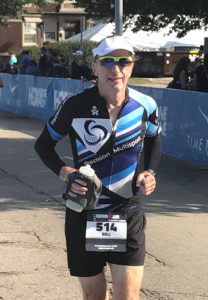 Q: What are you training for this season?
A: I wasn't an athlete in high school or college. I just took up the sport of triathlon four years ago, and I am curious to see what I am able to do if I try my best. Call me crazy, but my goal is to qualify for the Ironman World Championship in Kona. Unfortunately there is only one Kona slot awarded to my age group at each Ironman race, so that means I have to win my age group in a qualifying Ironman race to be able to get to Kona. This year in September I am going to give it my best shot to do that at Ironman Wisconsin. I will also be racing in the American Triple-­‐T in May, Ironman 70.3 Racine in July, the Age Group Nationals in August, and Ironman Arizona in November. It's really fun to be able to train and compete and I feel very fortunate that I am healthy and able to so this—so many people not as lucky. And most of all, I am grateful for the support and encouragement of my wife Laurie, my primary coach JP, and my swim coach Craig.